From www.kotaku.com – 12/04/15 7:30 AM
– by Brian Ashcraft
---
Often foreigners in Japan are complimented on how they use chopsticks. Many, however, are not actually using them properly. Then again, neither are most Japanese people. Go figure.
This article was originally published on March 4, 2015.
As Kotaku reported in 2012, only 30 percent of Japanese people in their 40s and 50s hold chopsticks correctly. Each year, that number gets smaller and smaller.
But can you spot the proper way to hold chopsticks? In the picture below you can see all these different ways of holding chopsticks in Japan, but only one way is the right way. Can you tell which?*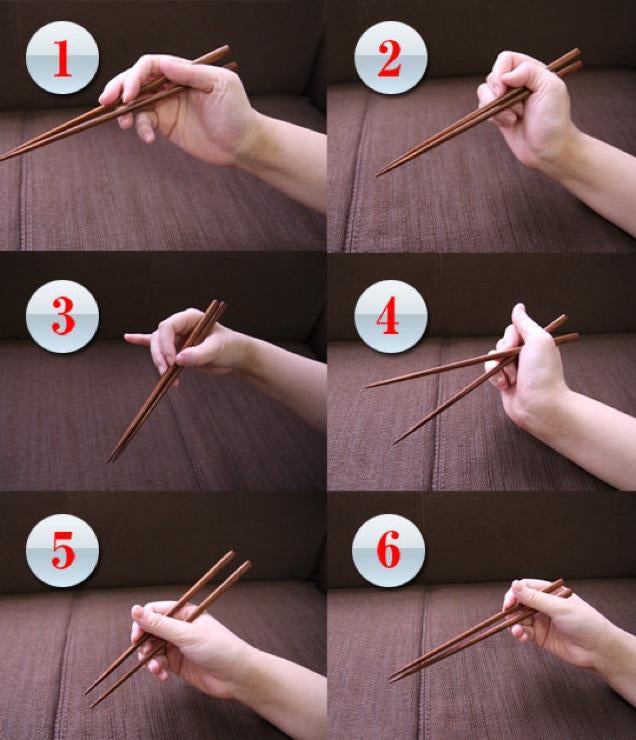 [Image via
にゅーす特報
]
So, while the number of people who use chopsticks correctly might be lower than you'd think, it is still a sign of good manners. Using them incorrectly is a sign of bad manners—and even, oh dear, poor upbringing. That's why when Japanese celebrities appear on food shows and hold their chopsticks in a horribly incorrect or even odd manner, they are often mocked online.
Chopstick specialty outlet Seiwa did a poll, revealing that nearly 90 percent of respondents had a "highly favorable" impression of people who use chopsticks properly. It's good manners! If you don't know how or need a refresher, let Chopstick Man show you how it's done: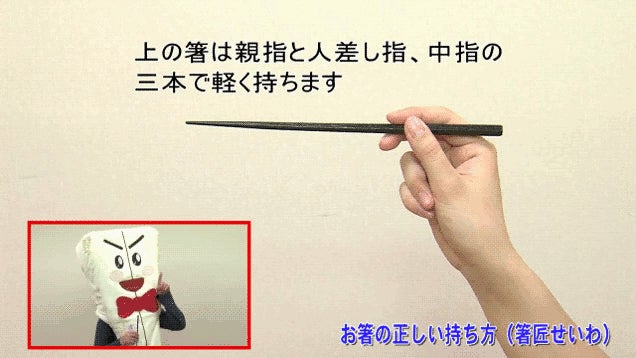 Hold one chopstick, like so, with your pointer, middle finger, and thumb. You should be able to move the chopstick up and down.
From thingiemajingie.wordpress.com – September 21, 2015 3:52
---
In the middle of towering trees, fields of greens and away from bustling common areas is a contemporary restaurant inspired by the land of the rising sun. Greeting everyone who steps foot inside with a chorus Irrashaimase! (Welcome!), the folks at Shachihoko Ramen brings Marikina City closer to the wonders and tasty food of Nagoya, Japan.
The brightness of their interiors is undeniably crisp and new for me – maaliwalas as I'd describe it – and I was excited to know and discover their food and services the moment me and my buddies decided that today was Ramen Day.
I was accompanied by my two food-loving buddies again – Hi, Che and Kuya Jay~! – and we were tended promptly and mindfully by a server. The accommodating store manager – Hello, Ms. Vangie! – allowed me to learn a trivia about Shachihoko Ramen. For interested visitors' piece of information: their ramen recipes are from Nagoya City!
While I'm not expert in regards to these but I did learn how ramens are prepared differently in various places in Japan. When I visited Japan a few months back, we happened to tour inside a Ramen Musuem! *laughs* Like how our Nilagas, Adobos, Pancits and more are prepared differently based on the provinces and regions. Hihihi~ the more we know, indeed.
Dishes were served in succession and I was amazed at their signature ramen – Shiroi Ramen. As the name suggests, all the tasty goodness of noodles, eggs, chashu (or braised pork) and nori in white milky broth of pork and chicken. Noodles swimming in a white, WHITE soup? Heck, yes. A must try to those are feeling adventurey in the name of ramen-tasting.
The dessert experience was particularly memorable. Me and Che had the usual plain Green Tea flavor ice creams as we were afraid of the other. Kuya Jay – being the most adventurous eater among us – gladly accepted the Sesame Ice Cream challenge. OH HOW WRONG WE WERE TO BE AFRAID! As it turned out, the Sesame Ice Cream tasted glorious – a toasty taste, somewhat similar to peanut butter but not entirely – that melted nicely inside the mouth.
Sesame flavored ice cream isn't as common as green tea and Shachihoko Ramen may perhaps be the first restaurant (here in Marikina City, that is) to serve it. How cool is that! Sugoi!
Shachihoko Ramen's ramen menu starts at P168.00 and rice bowl menus of P158.00. Side dishes of soups, gyoza, salads and more starts at P65.00. I'm excited to try more of their ramen and donburi and see how Shachihoko Ramen would bring more of Japan here in the Shoe Capital.
Until the next eat! Mata ne~ o(≧∇≦o)
Jiandra
料理長 – SACHO Myra Florentino Umali updating with Mr. Kaoru Fujii, Headmaster of Yamato Noodle School, President of Yamato Manufacturing Co. Ltd. Japan